KBH Construction Update
Martin Jahn Nursing Pavilion
Millwork in the Garden level will be finished by the end of this week.
Painting will start in the Garden level next week and will take approximately a few weeks.
Millwork on the 1st floor will take another two weeks and then will be followed with painting.
Carpet install is about 1-1/2 weeks away.
The IT and Nurse Call systems are being installed over the next four weeks.
80% of door hardware has been installed in the building.
Pepper plans to do the 'Construction Clean' of the building around
March 12th. Then, KBH will come in and sanitize the whole building before move-in.
The Gardens
Framing walls, and concrete pour, for the support pillar footings that will support the slab over the garage will be finished by next week.
The south elevator shaft is currently being framed up and the concrete will be poured this week.
Plans call for another 120 yards of concrete this week.
Work continues on the underground plumbing and electric.
*The weather looks good for this week, and next, so fingers crossed that the crew will be able to continue all of the concrete work.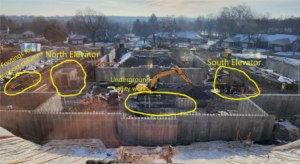 With last week's cold spell behind us, the construction crew continues with concrete work this week. This photo shows progress as of today (2-6-23). This view is from the back of the Manor Home, and it shows the shape of the building is starting to come together. The "U" shape of the foundation walls will outline the garage and the majority of the building above it. There will also be a south wing of the building that will continue to the right of this view.