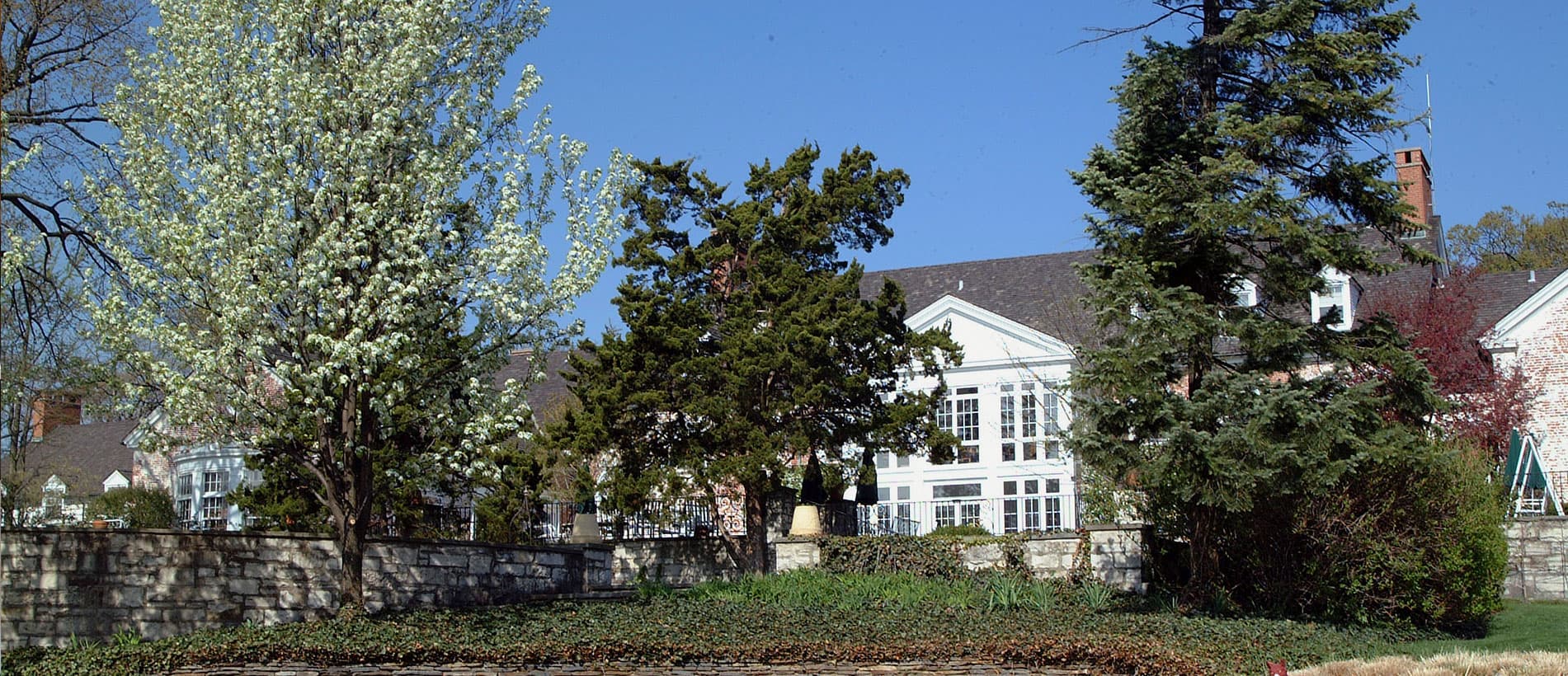 Outdoor
Our Outdoor Haven
Nature brings peace and tranquility. Tall, majestic trees surround the expansive King-Bruwaert campus. Perennial gardens flourish with vibrant colors and blooms. Annual flowers brighten our main entrance and common areas. Plants, shrubs and scented species attract monarch butterflies, hummingbirds and dragonflies. Two large ponds with aerators add a calming influence to a scenic 1-1/2-mile walking path that encircles the property. A walking bridge and outdoor dog park accentuate the scenic trail. Such stunning landscape offers the perfect environment for a variety of birds and wildlife to inhabit the grounds – creating a magnificent outdoor haven for all to enjoy.
With a setting as beautiful as ours, it only makes sense to have safe and well-maintained walking paths for our residents that wish to enjoy the expansive grounds at King-Bruwaert House. These thoroughfares are most popular in the warmer months and serve to connect our residents to their friendly neighbors and to the breadth of amenities across our spectacular campus. Staying mobile has many health benefits and we have many walking groups that make use of our paths on a regular basis.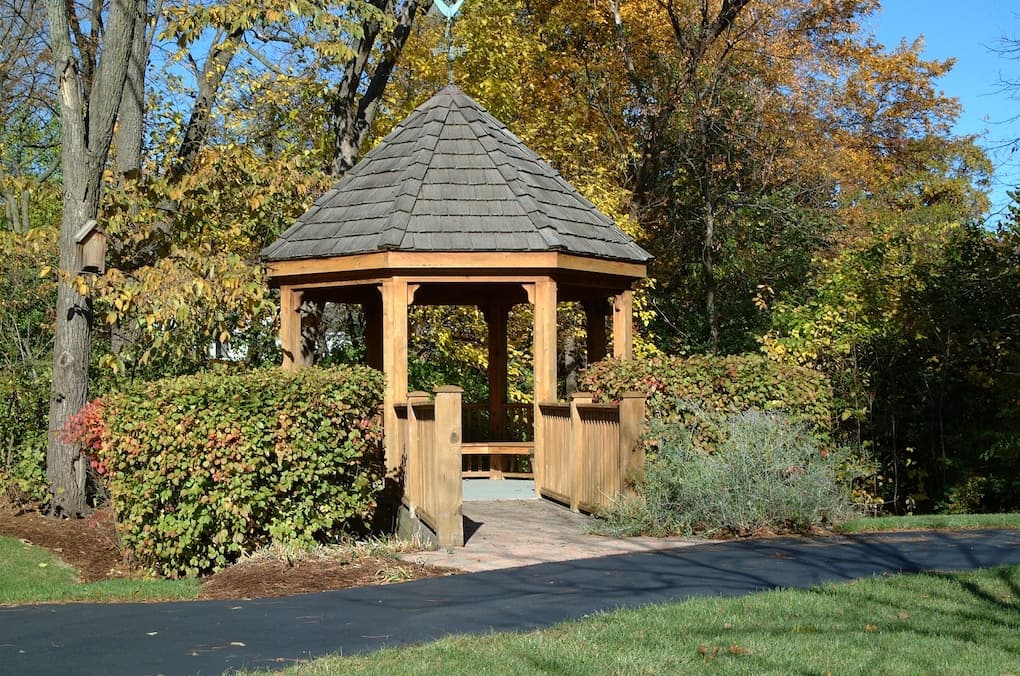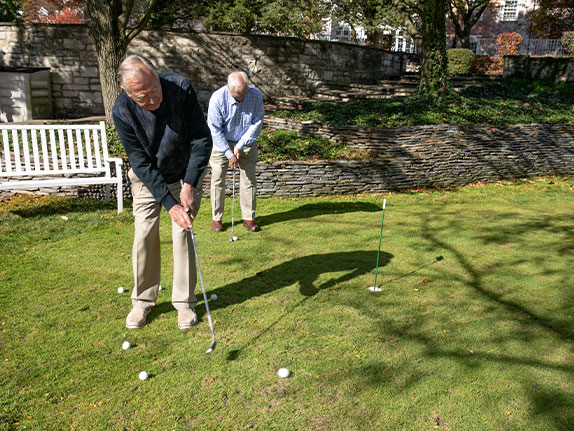 Nestled close to the Manor Home, our finely manicured putting green attracts avid golfers and anyone else looking to enjoy the outdoors and participate in some friendly competition with their neighbors. Truly amazing views surround this venue and provide a constant reminder that life at King-Bruwaert House is focused on living well and living worry-free. No longer burdened by the responsibilities and chores that go with home ownership, our residents are able to turn their attention to sinking that next putt.
Our residents are always close to water and the beauty of the amazing flora and fauna that surround our pristine ponds and water features. Home to migrating and residential birds during all seasons, our ponds enhance the natural beauty of our grounds and make everyone at King-Bruwaert House feel especially close to nature. Our paved walking paths make it safe to walk nearby and to take in the sights and sounds of all creatures that congregate on and around our ponds.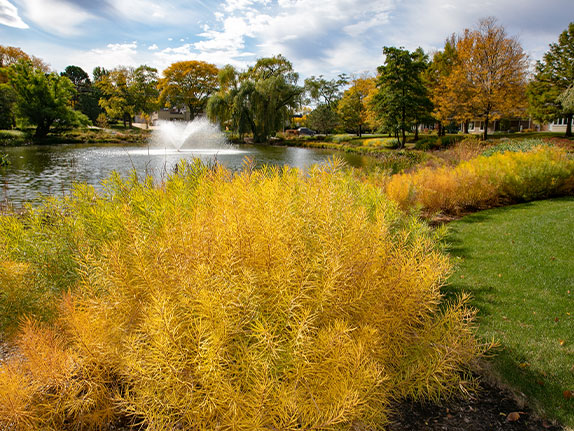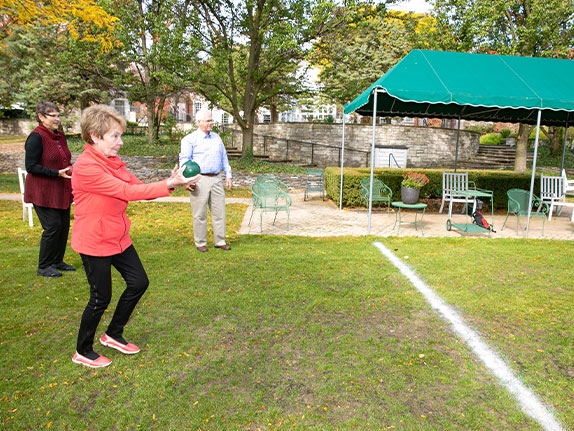 Our grounds are perfect for this fun, friendly, competitive game of skill that comes with its own set of health benefits for anyone participating. It is an excellent activity for seniors to take in safe exercise while increasing heart rate, releasing stress, improving flexibility and providing mental and physical stimulation.
As a pet-friendly community, we welcome many four-legged family members that adhere to our pet policies regarding breeds and size. Pets can help reduce stress, lower blood pressure, increase social interaction and physical activity. Our dog park is the perfect venue for canine socializing.