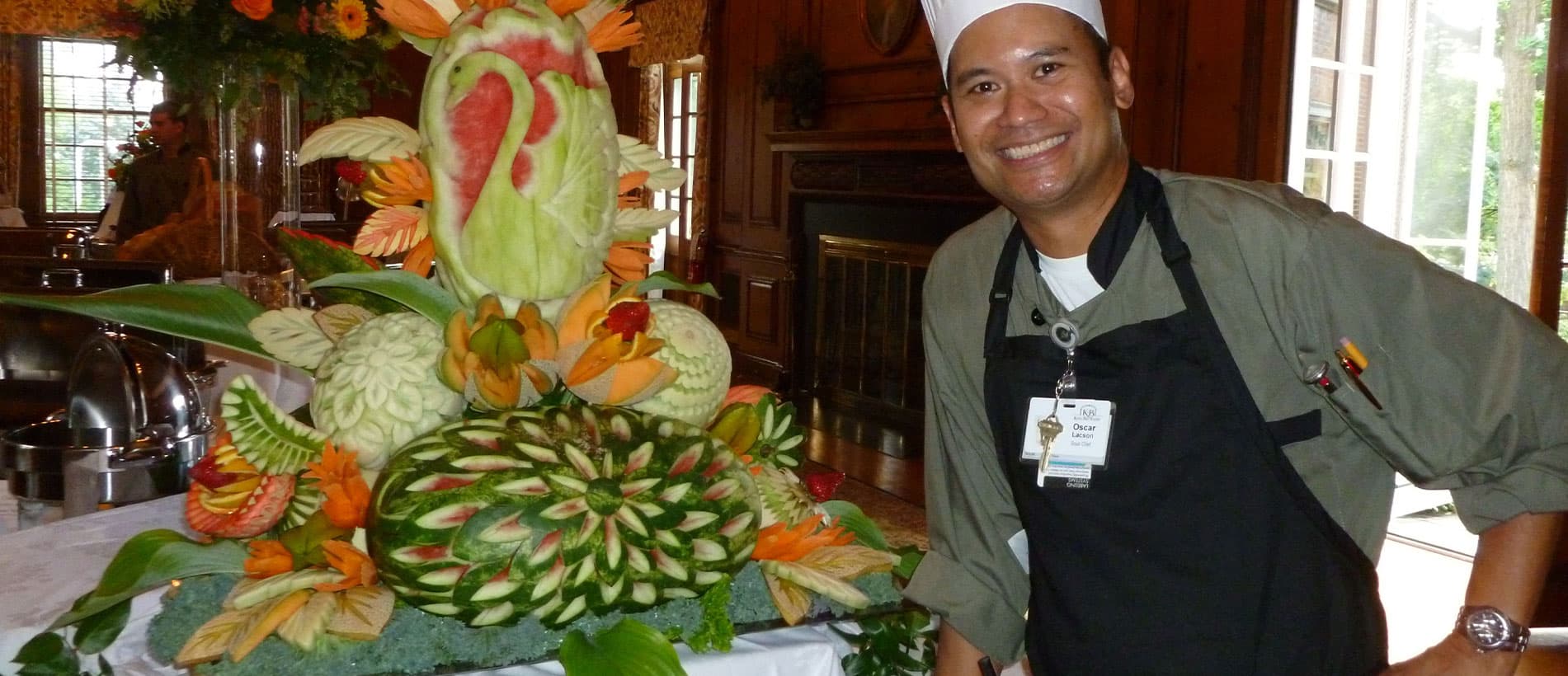 Dining
Exquisite Dining
Our chef's motto is "You wish it, we dish it." This perfectly captures dining at King-Bruwaert House — an experience our residents look forward to with meals that are always special. Distinguished by exceptional food service and dining accommodations, residents enjoy three daily meals featuring a variety of savory menu options that change regularly, especially during the holidays when menus reflect seasonal celebrations and delectable specialties. For those with dietary restrictions, our food service staff prepares meals that include personal preferences, tolerances, and limitations.
Timeless elegance describes the beautiful King-Bruwaert House Main Dining Room. Residents enjoy three delicious, daily meals individually served in a light, bright room with windows overlooking botanical gardens that reflect changing seasons. Tall, contoured ceilings draw attention to ornate wood accents and crystal chandeliers. A hand-carved fireplace brings warmth and coziness to the daily dining experience. A well-planned menu includes a selection of flavorful entrees featuring fresh fruits, salads and vegetables. Our professional chef and culinary team prepare balanced, tasty meals that address personal preferences and dietary needs.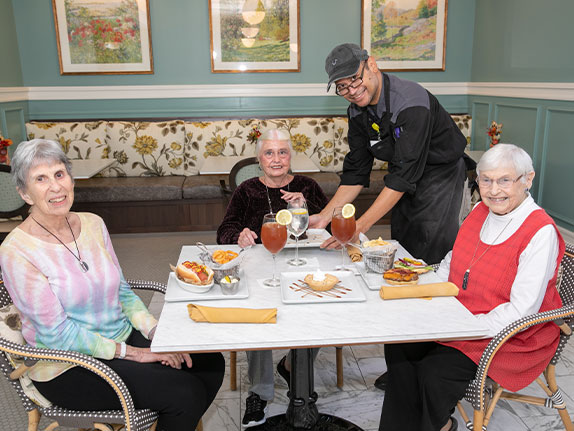 Friendly staff and a welcoming atmosphere bring residents, family members and guests to our popular Bistro '33. Cozy, charming, comfortable and casual, our Bistro '33 offers a pleasing menu of homemade soups, salads, sandwiches, pizza, savory sweets and snacks. Beer, wine, cocktails and soft drinks also are served. Our Bistro Manager posts daily specials, desserts and palate pleasers. Menu items are moderately priced, ranging from hearty options to lighter fare for those who may be counting calories. An adjoining outdoor patio gives guests an opportunity to enjoy fresh-air dining surrounded by tall trees, floral beds and a warming area.
Private dining gatherings give residents an opportunity to spend quality time with their friends or loved ones. King-Bruwaert House offers several private dining venues that will accommodate residents, family members or friends who wish to celebrate birthdays, anniversaries, theme parties and special events. Pre-planning gives families plenty of time to meet with our culinary managers to schedule times, dates, room options, menus, pricing, set-up, staffing and miscellaneous needs. The Culinary Department reserves the right to limit the number of guests.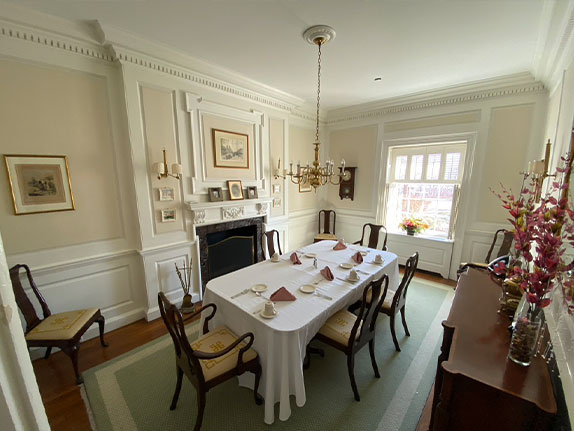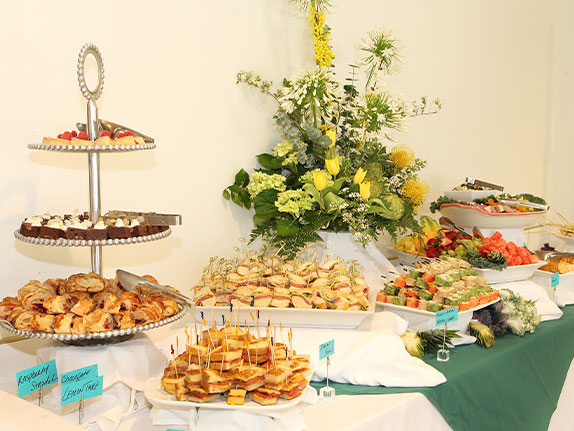 Delicious home-made meals, prepared by our King-Bruwaert House Culinary Department, are available to independent living residents of The Woods of King-Bruwaert and Godair Park (and eventually The Gardens of King-Bruwaert). Meals may be scheduled in advance by the day, week or month. Options include full course meals that are prepared mid-day, warm and ready-to-eat. A lighter fare meal also is available in the early evening. Orders must be placed directly to our Culinary Department with mention of any dietary preferences. Billing is handled monthly. Meal deliveries are scheduled twice daily and on weekends, overseen by KBH carriers who keep the food fresh and warm in insulated bags.
Residents may enjoy a number of outdoor dining options as weather permits. A seated, enclosed patio located adjacent to our Bistro '33 is open daily and weekends during regular hours. Bistro '33 staff will take and serve orders. Tables, chairs and umbrellas are available on a first-come basis for this popular venue. Guests will enjoy casual dining on this lovely patio located in a scenic setting.
Our lovely Woods Inn outdoor courtyard patio is yet another dining option for residents on the south side of our campus. Tables, chairs and umbrellas are available in the courtyard area. Our independent living Resident Managers frequently schedule group events and parties in the Woods Inn courtyard and the adjacent indoor porch and interior space. Reservations must be made in advance and scheduled with our Resident managers and Culinary Department. Nearby parking also is available.