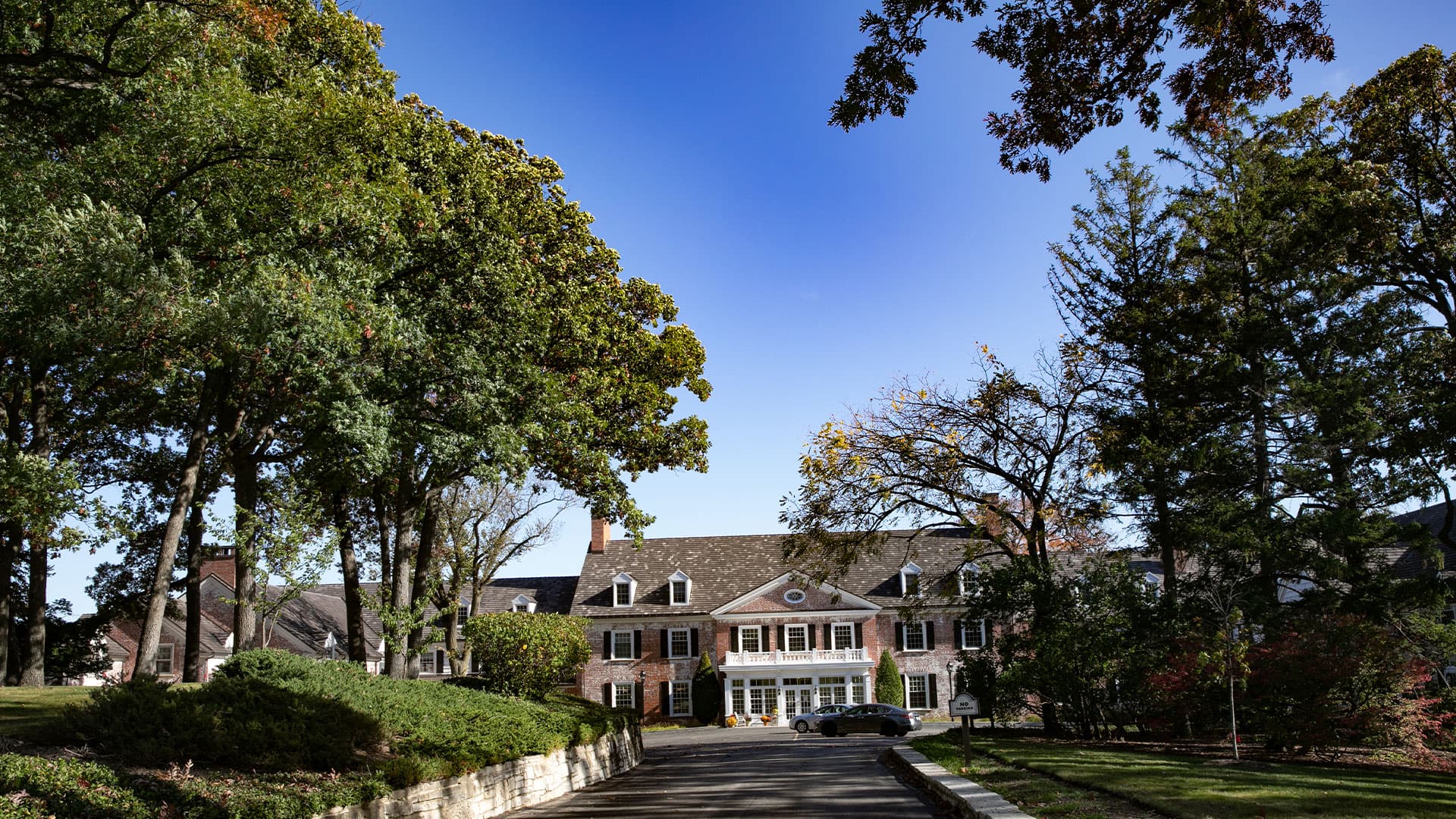 Manor Home
The Top Choice for Senior Living
This is where it all began. Through the generous donation of Suzanne King-Bruwaert through her will, $2.5 million was dedicated to building per her specific plans, a retirement community in her native Chicagoland in which senior women could live their remaining years in dignity and comfort. King-Bruwaert House opened its doors in 1933, and the historic charm of the 1930's continues to carry throughout this Georgian-style mansion. This can be seen in its original wood paneling and moldings; ornate, crystal chandeliers; hand-carved fireplaces; and so much more. Today, the Manor Home as evolved to house residents, both men and women, in assisted living, memory care and skilled nursing. The Manor Home also acts as the main hub of shared amenity spaces for the entire KBH community. Here, all community residents can enjoy a meal at Bistro '33, receive a haircut and manicure at Salon Muir, enjoy a card game at the Woods Inn, or just partake in the beauty at one of our multiple terraces. Members from the surround communities and suburbs also visit the Manor Home frequently as our lower-level house DuPage Medical Group's geriatric practice and DPT Sport, an independent physical therapy practice.
Step back in time as you enter the doors to this magnificent space. The Great Lounge has hosted many social gathers, holiday parties, memorial services, and donor appreciation dinners and luncheons since the Manor Home opened in 1933. Appointed with its original fireplace, wood-paneled walls, chandeliers, and hardwood floors, the Great Lounge continues to be the main gathering space for KBH residents, employees, friends, and family.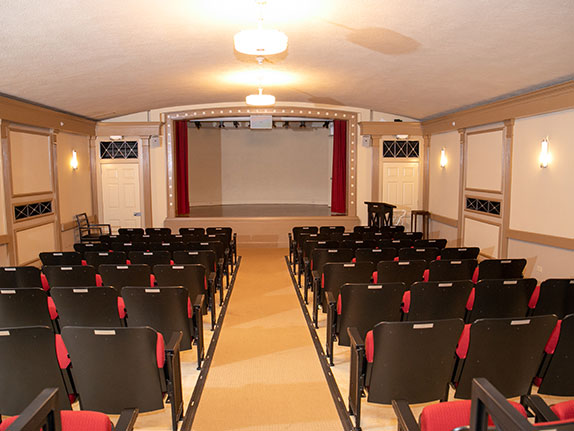 The KBH theater is another space that is original to the Manor Home. The theater received a full makeover in 2008 from generous support of our donors through a dedicated campaign. It was updated with new technology but keeps the art deco theme that was extremely popular when the Manor Home opened. Today, the Theater hosts movies, live action theater, music shows, other activities including a Halloween costume show, and employee trainings. This is a one-of-a-kind space that is just one example of the unique character of KBH.
Dark wood paneling, built-in bookshelves, hand-carved fireplace, hardwood floors: everything you would want in a cozy spot to lose yourself in a great book. The Library is another original room to the Manor Home and is a favorite spot for our residents to catch up on the morning news. In the Library, you will find daily newspapers and periodicals, 1,000's of books ranging from the classics to sci-fi, and a computer in which you can perform research of your own. KBH also hosts several reading groups, and books may be checked-out of the library if you would prefer to read in the comfort of your own suite.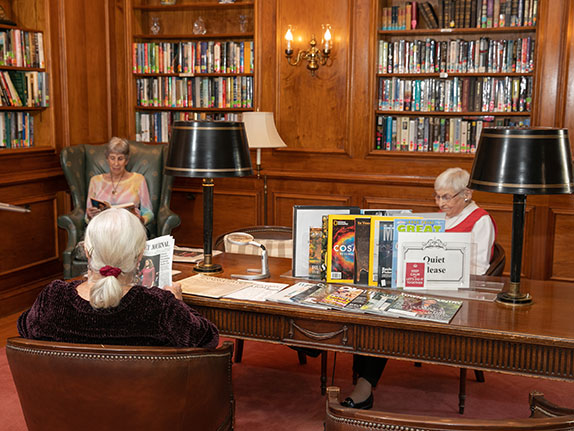 The Wellness Center acts as the main center of life enrichment activities for the KBH community. Our dedicated team of life enrichment professionals plan and host events and activities that focus on all dimensions of wellness for our residents. You can enjoy cooking and art classes, dance classes which include our KBH Adorables and Men in Black dance troupes, arts and crafts, and different exercise classes. The Wellness Center is located on the lower level across from Salon Muir.
Our beautiful chapel opened in 2000 with support of donations from residents, families, and friends. Stained glass windows, wooden pews, and alter help provide a space that helps provide a feeling of devoted spiritual practice. The Chapel provides for either group services, like smaller, non-denominational services, Catholic communion, and Rosary recitation, or for a quiet place of solitude in which community members can partake in solitary meditation or prayer. Services may be led by the KBH Chaplain, or other religious leaders from the surrounding community.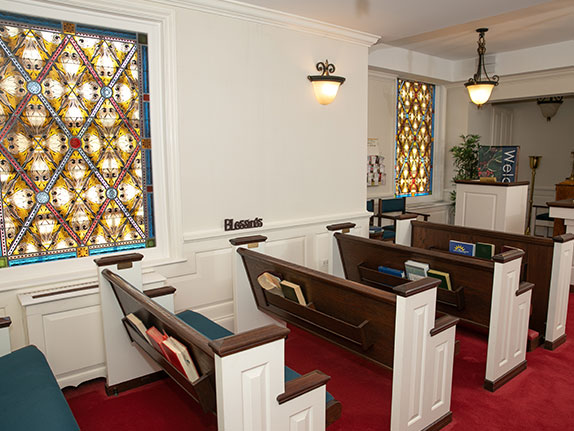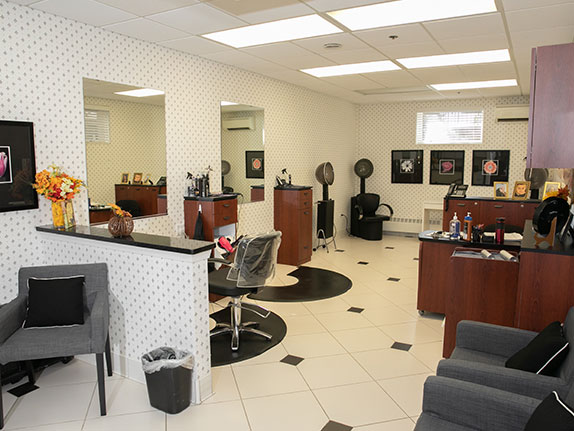 Salon Muir is available to all residents of King-Bruwaert House. Located on the lower level of the Manor Home, experienced hair stylists offer services that include haircuts, coloring, styling, shampoo sets, perms and manicures. Having this available in the Manor Home means our residents do not have to brave the Chicago winters to get a haircut. The Salon is just steps away from the residences in the Manor Home and a short walk from The Woods of King-Bruwaert House.