KBH Construction Update
Martin Jahn Nursing Pavilion
On February 15th, a group of information technology professionals will be here to start installing the IT infrastructure. This will take approximately 3-4 days. Once installed, they will then schedule the install of the emergency call and the door security systems.
TVs will be installed on March 8th.
Installation of the Mom's kitchen equipment will be on March 1st, along with the range hood on March 9th.
Elevator inspection will be on March 27th.
The Gardens
Last Monday, February 6th, 80 yards of concrete was poured for posts on the north side of the future garage.
Another 80 yards was poured on February 7th.
ComEd is coming on February 13th to review the site. They need to install a connection before Pepper can continue to pour on the south side of the building. Once the connection is installed, Pepper will continue to pour additional footings and foundation walls which should be close to finished by the end of the month.
To date, 1000 of the 4500 yards of concrete for The Gardens have been poured.
*Our next Construction Town Hall is Thursday, March 2nd from 9:00-10:00am in the Great Lounge.   (NOTE: The start time has changed from 9:30am to 9:00am)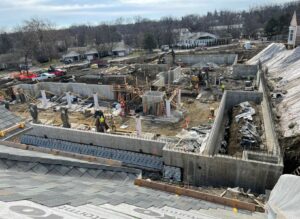 This photo, taken from the roof of the Martin Jahn Nursing Pavilion, shows the progress of concrete work at The Gardens. Many footings and foundation walls are in place, along with some concrete  support posts and an elevator bay.