• One of three new retaining walls are complete. The completed wall is close to the
Porte Cochere entrance at the new Heath Care (HC) building. The other two will
be worked on over the next two weeks and are located around the building.
• The creation of berms continues this week. These berms are being created from
earth that is being moved from the excavation for The Gardens. The berm close to
the entrance of the campus is finished and one at Godair Park will be completed
this week. Also, all berms should be landscaped by end of this week. These berms
will help eliminate sound and light pollution.
• Concrete will be poured outside of the clinic this Thursday and Friday. The clinic
entrance will be closed on those days. We recommend all residents access the
Clinic (Duly Healthcare, DPT Sport, etc.) through the front entrance of the Manor
Home during the concrete pour. We will do our best not to eliminate any parking
spaces during this time.
• Masonry work continues. The east side of the new HC is complete, and the south
side should be completed within the next week or two. Also, The German
Schmear, that will be applied to match the Manor Home, has been finished on the
front of the new HC building. (pictured)
• Excavation continues for The Gardens. During the excavation we expect many
trucks will be coming and going on campus. They will work regular construction
hours so please plan ahead if you have any appointments that are taking you off
campus during those times. (pictured)
• Work has started on the connection between The Gardens and the Manor Home.
The Harvest private dining room will be converted to a walk-through for the
kitchen staff to access the Main Dining Room. The Greenhouse will start to be
converted at the back of the house, as this space is being designed for the
culinary team, and it will also act as a hallway for them to access the new dining
room in The Gardens. Due to this work, the glass-covered area between the
kitchen and the first dining room in Health Care will be inaccessible to staff.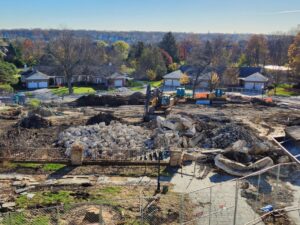 Excavation continues for The Gardens. Some earth being moved is being transformed into berms to help with sound and light pollution. We expect excavation to be completed this month to make way for concrete work.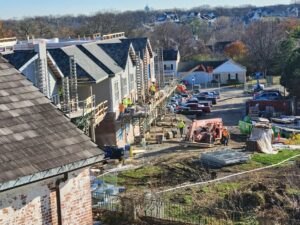 Masonry workers are in high gear trying to complete the brick work around the new Health Care building. The German Schmear has been applied to the north (front) of the building and will be featured on all masonry.