KBH Campus Expansion Construction Update for the Week of 1/16/2023:
Some work listed below started last week and will continue this week.
Health Care
Tiling first floor bathrooms.
Tiling soiled clean utility and ancillary spaces on the Garden level.
Doors and Hardware arrived and are being installed.
Cabinets are coming in and they will install over the next few weeks.
Electrician started installing light fixtures on the Garden Level.
Windowsills are in today and will be installed this week.
Appliances will start arriving this week.
Bedroom furniture is slated to arrive the last week of February.
The Gardens
Concrete was poured last week on the West Wall of The Gardens (the wall that runs parallel to the main dining room and the Great Lounge in the Manor Home).
The plumbing crew is working on underground utilities this week.
Forms for foundation walls continue to go up quickly and walls will be poured throughout February.2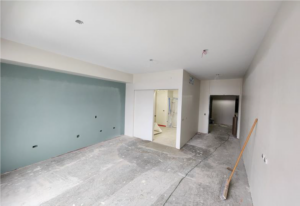 The interior of a resident room in the new Health Care building. The rooms are spacious, providing plenty of room for personal items. Also, the ensuite bathrooms provide privacy and a greater sense of a home-like environment.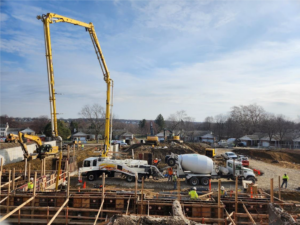 Concrete being poured via a boom into the framing for the foundation on the west wall – closest to the Manor Home. The walls being poured will enclose the under building garage and support the three floors above.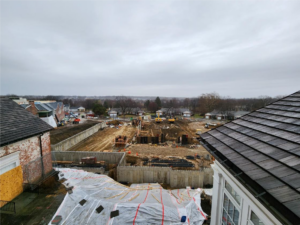 This picture is taken from roughly the same angle as the one about only a few days apart. In this picture, the framing has been removed and the foundation wall for the west side