For many older adults, especially those with memory loss or serious illnesses, healthy eating may not be the biggest priority. Without a caregiver, family member, friend, neighbor or culinary team ensuring that daily meals are eaten, nutritional needs may decline, creating a potentially serious situation. Complications may also occur with actual meal planning and preparation.
At King-Bruwaert House in Burr Ridge, we encourage residents at all care levels – independent, assisted living, memory care and skilled nursing, to consume daily nutritious meals that satisfy and meet their needs. Healthy food choices and water consumption for older adults can help to maintain physical and cognitive functions and support bone, vision and vascular health. Food also fuels the body's immune system to provide stamina and strength. Drinking water regularly keeps the body hydrated.
It is very common for older adults to experience a loss of appetite or changes in smell or taste. During the aging process, many individuals begin to reduce their food intake or skip meals altogether. The prospect of dining or being alone may also take away from the enjoyment of what was once a shared activity with others.​
Meal Planning Poses Challenges for Those with Memory Loss
For seniors exhibiting signs of short- or long-term memory loss, there is an added concern about preparing food using a stove, microwave or electrical heating appliance. Will your friend or loved one remember to turn off the stove or oven or avoid using certain items or utensils when heating foods in a microwave? Do they have the ability to adjust knobs on a toaster or will they remember to turn off a coffee or slow cooker? Confusion and forgetfulness can be a dangerous combination for someone who is left alone to navigate kitchen duties.
And what about meal clean up? Who will tidy up the kitchen after a meal has been prepared? Will dirty dishes or leftover food begin to pile up on the stove, counters or in the sink? Meal messes can be yet another reason why many older adults just don't want to bother with the time and tasks involved.
​
Checking on the expiration and dates and freshness of food items is another important part of effective meal planning for those with memory loss or limited capabilities. Products such as milk, eggs, juices, fruits and vegetables offer limited consumption times. Dates and codes should be checked regularly to ensure safe eating.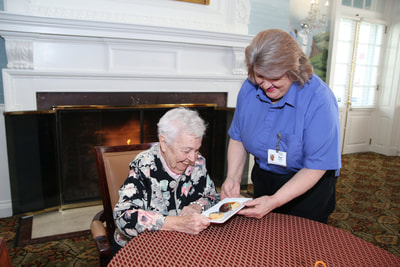 For older adults who have diabetes, food allergies or dietary/caloric restrictions, it is important to stock up on menu items that are essential to their well-being. Weekly grocery store visits by a family member or caregiver will ensure the purchase of healthy products. In Burr Ridge and other communities, many local grocery stores offer order and delivery services for a fee. This may be an option for those seeking support for older adults who no longer drive.
​
Older adults benefit from a daily, well-planned meal plan that includes fresh fruits, vegetables, whole grains, meat, fish or poultry – in consideration of any restrictions. Dining with others and being part of a social setting adds to the enjoyment of a regular eating regimen. King-Bruwaert House offers several meal options, including formal sit-down dining, casual Bistro meals and in-home delivered meal service for those with limited mobility.
​
"We recognize the importance of nutrition for our residents and prioritize all aspects of the dining experience," said King-Bruwaert Chief Executive Officer Terri Bowen. "Nutrition is an essential part of aging – and through the support of our dietitian and our trained and dedicated culinary staff, we make options available that satisfy, support and sustain."
King-Bruwaert House in Burr Ridge, IL celebrates 86 years of providing exceptional care and services for independent living, assisted living, memory care and skilled nursing. Our continuing care retirement community is located about 30 minutes west of Chicago, and serves many local communities including Burr Ridge, Hinsdale, Clarendon Hills, Oak Brook, Western Springs, Indian Head Park, LaGrange, Downers Grove, Willowbrook and Darien. King-Bruwaert House is nestled on a private, 35-acre wooded parcel, surrounded by gardens, a walking path, two ponds and a scenic creek. Our warm and inviting Georgian Manor residence is recognized for having friendly, caring staff, unique architecture and beautiful furnishings.