Addition (Clinic and 2nd floor Health Care):
• All demo work in the clinic is complete, but the majority of the remaining remodel work is delayed as we
have to wait for the residents in Health Care to move to the Pavilion. Expected completion date will be closer
to Sept. 15th.
• Work in the first dining room in Health Care will start in the next week or so. Most of the stored items have
been moved out and plans are to rope off the work area such that staff can still work in there for as long as
possible.
The Gardens:
• The slab on grade concrete pour for the south wing took place this past Saturday (5/13).
• The north stairwell tower is complete, and work continues on the south tower. Work is also taking place
on the elevator towers that are connected to the stairwell towers.
• Steel will start being delivered next week. You will see a large crane on site. They may have to park a large
trailer on the road while this work is being done and Pepper will work directly with the Woods residents affected.
• Wall panels will start to go up the 1st week of June. Installation will begin on the south side, then move to central
section, and then back to the south side.
• They are working on the rough-ins in the garage for gas and electric, etc.
• The water main was tested for The Gardens and passed inspection.
• Work on the storm sewer between The Gardens and the Manor Home is taking place.
• The next Town Hall in scheduled for early July. A meeting invite will be sent out.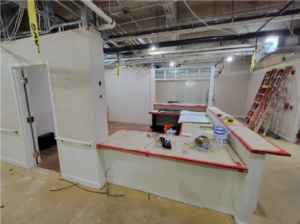 Demo work in the Clinic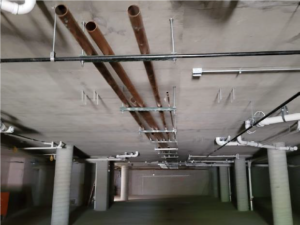 Utility work taking place in The Gardens garage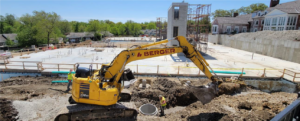 General construction progress at The Gardens