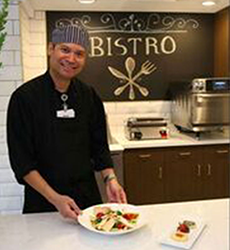 Oscar Lacson takes pride in his position as Bistro Chef. Rising early, he opens the Bistro with freshly brewed coffee for residents and staff. He spends several hours making pre-packaged lunches for staff that include tasty sandwiches, pasta and burgers. Food presentation is always important.
"I try to make it nice for everyone," Oscar said. "I always serve something that I would eat."
Oscar's talents began when he was young, learning to cook from his family. He did some training in Chicago and accepted his first job preparing meals for physicians/specialists at the Rush-St. Luke's Medical Center. Working closely with a talented German chef for 25 years, Oscar learned so much about upscale dining and catering for breakfast, lunch and banquets. On his own, he took food sculpture classes, mastering the art of making unique carvings. At the hospital, he connected with prominent patients such as Michael Jordon, White Sox and Chicago Bulls players, Mike Ditka and Tommy Bartlett.
When the lead chef passed away, Oscar decided to try something new. He was recommended to King-Bruwaert House where he started in 2011. From the main kitchen, he moved to the Bistro when it opened. The Bistro has become a second home to Oscar where he adds accents to celebrate holidays and seasons.
In his spare time, Oscar enjoys antique shopping and has a collection of vintage food tools and other items. He displays some of his collectables in the Bistro. He also enjoys gardening and decorating. Several years ago, he surprised staff by bringing in a large, back-lit ice cream cone to display at a KBH ice cream social. Everyone wanted pictures next to the cone!
Oscar said he enjoys conversations in the Bistro. "I like to talk to people and chit-chat," he said. "I like to be part of their lives."