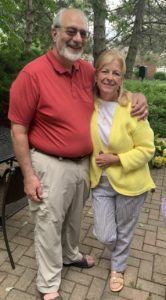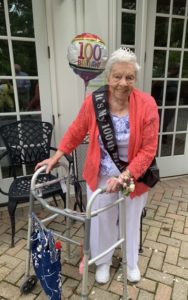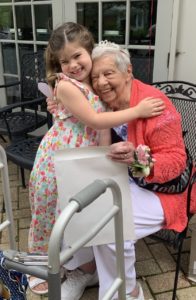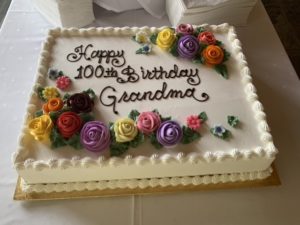 Lillian LaPalio imparts a philosophy that keeps her young and connected at the ripe age of 100.
"Just keep busy," Lil said. "Stay active and participate in activities."
Lil officially celebrated her 100th birthday on May 26. Family members joined her for lunch, presented her with flowers, and enjoyed a joyous Happy Birthday serenade by staff at King-Bruwaert House (KBH)-Burr Ridge, where she resides. Birthday signs decorated her door and building elevators. A separate celebration with her immediate family was hosted May 31 in a private room at KBH. Following current pandemic requirements, about 25 guests gathered to toast the 100-year-old matriarch who is thrilled to have reached her 100th year.
Family members are delighted that longevity runs in the extended LaPalio family. Lil's mother lived until she was 92. The father of her late husband, Philip, lived to age 94. She also had a sister-in-law who reached 104.
Lil's son, Larry, believes his Mom instilled many values that created a solid foundation from which the family was nurtured. Lil and Phil raised five children including their oldest, Salvatore, who died at age 33. Charlotte, 78, Philip, 77, Larry, 71, and Steve, 64, all live in the Chicago area and visit her often, as do her 10 grandchildren and 11 great-grandchildren.  They enjoy hearing all the family stories, past and present.
Lil was born and raised in Chicago, marrying her sweetheart, Phil, when she was 18 and he was 20. The couple eloped, much to the surprise of their families  –  exchanging their vows in an Indiana courthouse. But their strong Catholic values and ties brought them back to the church, surrounded by family for a second ceremony. When the couple reached their 50th anniversary, they renewed their vows at Holy Name Cathedral in Chicago and again on a cruise ship.
LaPalio remembers their first Victorian home in the DePaul neighborhood of Chicago. The house cost $6,500 and had all the charms of a vintage treasure. The family stayed active with St. Vincent DePaul Church.  In later years, the LaPalios would move to a condo building on Sheridan Road near Loyola University. It was here that Lil led an effort to renovate and dedicate a local park that became known as "Grandma Lil's Park." She worked for the Chicago Department on Aging as a specialist helping seniors with home services. She also served as an election judge and canvasser and volunteered with the Chicago Park District.  Under Mayor Richard J. Daley, she was elected to the Senior Hall of Fame for which she received a keepsake award.
For more than 10 years, Lil and Phil owned a trucking business on Chicago's north side. Lil was a busy partner with the business, while also raising her family and participating in community events. Eventually, Phil experienced health problems and the business was sold. That just opened more time for Lil to be active in other ways.
Family members note that she never drove a car and had no interest in learning how to drive. Instead, Lil took public transportation everywhere in the city.
"She didn't have a driver's license but this never limited her ability to get around," said Larry. "We went to museums and zoos, always doing something. She taught us the value of using public transportation whenever possible."
Lil and Phil learned about King-Bruwaert House through Larry, who served as the first medical director of the Geriatric Clinic that opened in 1990 and continues to operate on the north side of the retirement community. Larry points with pride to being among the first internal medicine physicians who took just the second exam to become board-certified in geriatrics. Although he was always interested in becoming a doctor, he notes that his mother's early influences with senior adults may have been a contributor factor with his own professional pursuits.
For the birthday gathering, Larry's wife, Mary, helped to create a meaningful video with personalized messages from Lil's family members. Lil's daughter, Charlotte, created a family recipe book featuring many of her mother's favorite dishes and desserts that everyone savored during family meals and holidays. Fond memories of those holiday meals are now cherished.
"My family wants to have these recipes to share with future generations," Lil said. "I didn't always put everything in writing. Now they have a story and photos to go with the recipes."
Four close-knit generations are now enjoying this milestone time celebrating a radiant and energetic matriarch.  There is so much pride, along with a storied history that will have more chapters to add.
"The best gift for our Mom is having our family get together and share the love and fellowship," Larry said. "This is what is most important to her."