KBH Campus Expansion Construction Update for the Week of 12/19:
Health Care
The inside of the building is taking shape as drywall is almost complete on the first floor (top level).
Drywall is complete (outside of hallways for inspection purposes) and the priming of walls is taking place on the garden level.
Tile work is also starting in the bathrooms on the garden level.
Arrival of fresh dirt will be delivered soon for some landscaping and the new irrigation system.
The Gardens
The first shipment of rebar is expected today. After the last of the excavation is completed, concrete pouring should start this week. The concrete is scheduled to be here on 12/20, and it will take weeks to complete.
The sewer system has been laid underground, but tie-ins to the existing building, as well as to The Gardens, still need to take place.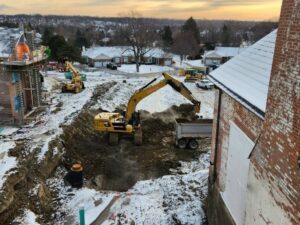 The last of the excavation! It's a cold one out there today and you can see the steam coming off of the dirt that was buried. Rebar and concrete will be delivered this week to make way for footings.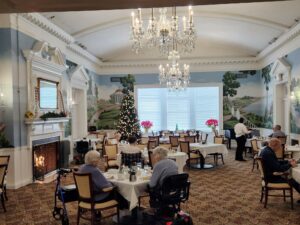 NOT A CONSTRUCTION PHOTO! But… we wanted to provide a glimpse of what the spirit of KBH looks like.  A community grounded in friendship and respect for all. This was taken this morning in the main dining room and helps remind all that our expansion is needed to continue our mission for future generations while honoring the past of this great community.