KBH Campus Expansion Construction Update for the Week of 2/27/2023
Martin Jahn Nursing Pavilion
• Last Monday, the electric and mechanical engineers performed a walk-through, and everything is as planned.
• Pepper Construction is working on their punch list to complete the final items.
• The columns and facia on the Porte Cochere will be completed this week.
• Exterior siding is almost complete.
• 1st floor is 10-14 days behind the Garden level, and everything is falling into place according to the timeline schedule.
• IT is installing their systems, and once complete, the Nurse Call, Phones and Security can be installed.
The Gardens
• Weather has been a concern, and for February it is rain and not snow. Plan is to pour another 100 yards so that they can start the slab on grade soon.
• Com Ed was out last week to connect the cable that will tie-in the underground wiring. Now, additional digging for the south foundation and footings will take place.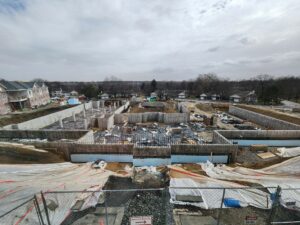 This photo was taken on 2/27/2023. The concrete work continues although the weather today, including a tornado warning, forced the crew to resume later this week. They will continue on the south foundation wall, additional support posts, and the second elevator bay.