• Today (11/29), a street cleaner will be on campus making sure roadways are free of dirt and debris.
• Excavation trucks will continue hauling away dirt over the next two weeks. Between 70-75% of the earth has been excavated for The Gardens.
• Removal of the stone retaining wall, behind the manor home, started today and will continue through this week.
• Work continues to beautify the berms that have been placed on campus and at Godair Park. The Godair berm is halfway planted, and the berm at the entrance of the campus is approx. 3/4 planted.
• On Thursday, concrete will start pouring for the stairs on the east side of the new Health Care building, the curb by the laundry section of the maintenance building, and by the clinic.
• Beginning next week, concrete footings will be poured to support The Gardens building.
• Also, next week, the sanitary sewer will be installed for The Gardens. This will not affect any street traffic.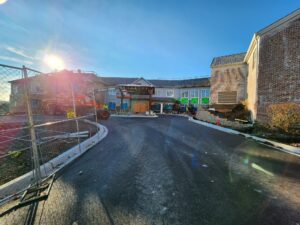 The base layer of asphalt has been laid for the driveway for Health Care, in front of the clinic, and Dragonfly Drive along with new curbs.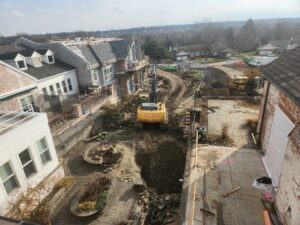 Work has begun on the removal of stone walking paths and the stone retaining wall behind the manor home. In this picture you can also see that the greenhouse has been removed next to the dining room to make way for access to The Gardens for the culinary team.