Over the weekend, Health Care (HC) external staircase was framed, and work continued on retaining walls. (Pictured)
• The permanent flat portion of the HC roof will be installed within the next two weeks (currently there is a temporary flat roof).
• Pepper is currently scheduling pre-install meetings for tilework, flooring, and millwork in HC.
• By the end of the week the road along DragonFly will be paved and residents will have easier access to their driveways.
• In addition, the area by the clinic will be paved and we should have access to several more parking spaces. However, during the paving (tentatively scheduled for Wed-Friday), we are asking ALL STAFF to park at Katherine Legge Park so that the Clinic and DPT Sport visitors can use the perimeter parking. At certain times of the day, we can provide for a bus to transport from KLP to KBH – please contact Paul if this is needed. Employees can still enter KBH through
the Employee entrance door during this time.
• Reminder: The emergency exit road, and the construction area by the employee parking lot, will be closed at 3:30 pm Monday – Friday. Please do not park in the construction area parking lot (old employee lot).
• As of Friday 11/11, 300 of the 1200 loads needed to be hauled out to make room for The Gardens were disposed of. Hauling away dirt during the next two weeks is priority #1.
• In the Manor Home they continue to work on the back of the house connection between the kitchen and The Gardens. On Monday, staff can no longer access the Greenhouse nor the HC Dining Room 1 from this area.
• After Thanksgiving, workers will start to pour the footings for the new Gardens Building.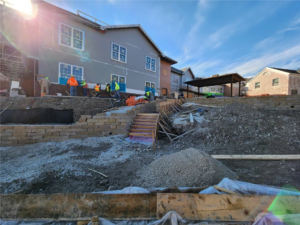 While masonry work continues at Health Care, retaining walls and other exterior elements (like the stairway) are being constructed. Interior work is also moving forward quickly as drywall is being hung throughout the skilled nursing wing.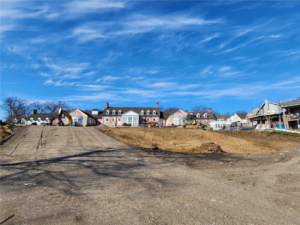 Many tons of soil have been removed to make way for The Gardens. Excavation will continue for several more weeks which will lead to concrete work starting soon. The lower level of HC will align with the lower level of The Gardens.