KBH Campus Expansion Construction Update for the Week of 1/23/2023.
*Please note that what was once called Health Care, will now be known as the Martin Jahn Nursing Pavilion
Martin Jahn Nursing Pavilion
Garden Level
• Aluminum entrance doors are in and waiting for the glass inserts to be installed.
• Work on the Porte Cochere plaster ceiling and columns continues and will take approx. two weeks.
• The tile floor is installed in the main entry and is being grouted today.
• Millwork is continuing throughout, with crown molding being installed in the hallways.
• All resident room floors are in, shower stalls are tiled, and plumbing fixtures in the bathrooms are being installed.
• Hanging of doors in resident rooms is taking place.
• Flooring and cabinetry are being installed in non-common space areas like the clean and soiled utility rooms.
First Level
• Trim work has started.
• Resident room flooring will be completed this week.
• Tiling in the resident rooms, and installing of the vanities and toilets, will be installed over the next week.
• Priming of the walls will start and be completed next week. Then, paint and millwork will begin.
The Gardens
• Footings are in and they continue to pour the foundation walls on top of the footings.
• Pepper has poured 750 yards of the 45,000 required yards to date.
• Underground utilities are being worked on.
• The concrete slab on grade on each side of the building will be poured in a couple of weeks – it will require a lot of concrete as it is 16" thick.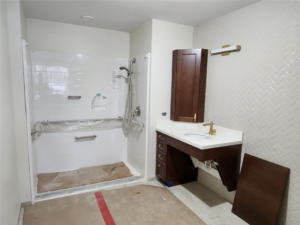 Private bathroom in a resident's suite. All bathrooms comply to ADA regulations, but also have a beautiful aesthetic. A mixture of different tiles was used for design purposes, which accent the cabinetry and plumbing fixtures.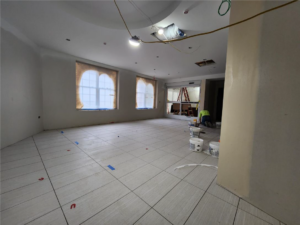 View of the main entrance and lobby in the skilled nursing pavilion. The lobby will house a receptionist area and by the main thoroughfare to residential spaces in the pavilion.